neurotic Iraqi wife
February 28, 2008
The Strange Stockholm Syndrome...
There's no doubt you learn new things every single day. Today I learnt a new expression which I never knew existed; Stockholm Syndrome. I found it while reading this horrific article on aol (which has nothing to do with Iraq) during my lunch break. Then all of a sudden it hit me. I realized that almost all Iraqis suffer from this Stockholm Syndrome. Is there a cure?

I mean check these pictures out. Iraqis cheering for Saddam, Iraqis cheering for Muti, ooops meant Muqtada, Iraqis cheering for US troops. Make your minds up people. But then again, we WERE called by Imam Ali ya ahl al Iraq, ya ahl il shiqaqee wal nifaq, which simply translates to: Oh people of Iraq, people of factionalism and hypocrisy! There are many who misuse these words and say it against the Shia'as only, but infact I believe this statement is true for ALLLLLLLLLLL Iraqis. Yes myself included. That's the truth, and anyone who tells you otherwise is a big fat liar.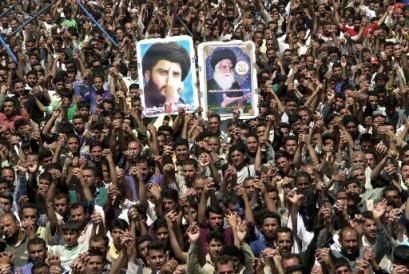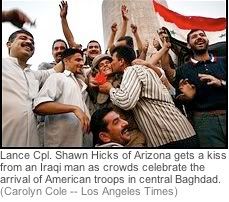 Actually to be even more honest, ALL ARABS are like that. Cheering and hailing their sadistic leaders. Giving them excuses, yeah theyre bad people, BUT. And there's always that BUT which messes the whole sentence up. No wander we can never live in democracy. We cant live it cuz we dont understand it. Yeah sorry, Im in that kinda mood right now. Mood Noir.


Im sick and tired of playing the blame game. I really am. The problem, the problem is us (east) not them (west). THAT IS THE TRUTH that no one wants to fess upto. We have a problem and its called PRIDE. It comes in all shapes and sizes. And that by itself is a problem. A problem that lies deep within us. My only consolation is, I already am seeing people speaking out loud, making their voices heard. It may be a minority, but still, one day they will be heard.
Thats all I have for today. We are a nation suffering from many syndromes. Pride Syndrome, Hypocrisy Syndrome, Narcissim Syndrome, and this.The Strange Stockholm Syndrome...

posted by neurotic_wife at
5:07 PM